Light Commercial HVAC Products
Zimmer Heating & Cooling specializes in light commercial products from Carrier, such as packaged rooftops, air conditioners, and heat pumps.
Elevating Comfort and Efficiency with Carrier: Your Commercial Partner in Cincinnati
Carrier has always been an industry leader in Heating & Air Conditioning products not just for residential use but for commercial use as well. Zimmer Heating & Cooling is Cincinnati's most trusted seller and installer of Carrier products.
Zimmer Heating & Cooling specializes in light commercial products from carrier such as Packaged Rooftops, Air Conditioners & Heat Pumps.
Contact us to learn more about our availability of Light Commercial Products in the Greater Cincinnati area.
CARRIER GEMINI
38AU/40RU
SPLIT SYSTEM
CONSTRUCTED FOR LONG LIFE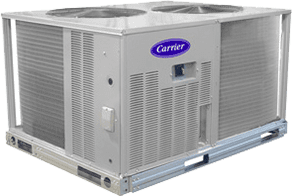 The 38AUZ single circuit and 38AUD dual circuit, scroll compressor models are designed and built to last. The outdoor coil construction allows for a more efficient design in a smaller cabinet size providing a reduction in refrigerant charge. Where conditions require, a special coil coating protection option is available. Cabinets are constructed of pre-painted galvanized steel, delivering unparalleled protection from the environment. Inside and outside surfaces are protected to ensure long life, good looks, and reliable operation. Safety controls are used for enhanced system protection and reliability.
Each unit utilizes the Comfort AlertTM diagnostic and troubleshooting control system. This protects the units operation and provides valuable diagnostic information when required.
EFFICIENT OPERATION
Gemini air-cooled condensing units provide EERs up to 11.5 and IEERs up to 13.2, which meet the ASHRAE 90.1 efficiency levels. This high efficiency helps reduce overall operating cost and energy consumption.
DEPENDABLE PERFORMANCE
The 38AU condensing units offer operating controls and components designed for performance dependability. The high efficiency hermetic scroll compressor is engineered for long life and durability. The compressors include vibration isolation for quiet operation. The high-pressure switch protects the entire refrigeration system from abnormally high operating pressures. A low-pressure switch or loss of charge switch protects the system from loss of charge. These units also include anti-short-cycling protection, which helps to protect the units against compressor failure.
CARRIER
WEATHERMAKER
COMMERCIAL
EASY TO INSTALL, OPERATE AND SERVICE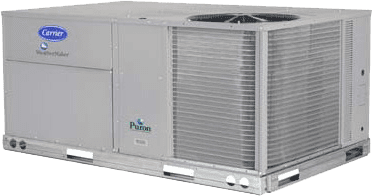 Designed with streamlined installation in mind, Carrier® WeatherMaker® rooftops have everything you need from handled access doors to certified and pre-engineered factory installed options and field installed accessories. Most Carrier rooftops are also designed with the same roof curb footprint to fit on older models dating back over 20 years.
Factory and field stocked, WeatherMaker units are available in gas heating/electric cooling, electric heat/electric cooling or packaged heat pumps and deliver SEERs as high as 13.4 and EERs up to 11.3. WeatherMaker rooftops have the capability for vertical or horizontal air flow for fast and easy installation. High-efficiency gas heating (up to 82% efficiency) with induced draft design facilitates long life and safe operation. Carrier WeatherMaker rooftops can satisfy nearly any light commercial application need.
TURN TO THE EXPERTS
Truly a leader in innovation, Carrier was the first company to utilize environmentally sound Puron® refrigerant in HVAC units. Without depleting the ozone layer, Puron refrigerant delivers ideal indoor air quality. Today over 2.5 million homes and businesses operate on Puron refrigerant-based HVAC systems. And as emphasis on environmental sensitivity continues to increase, Puron refrigerant will only become more relevant. Puron refrigerant is the refrigerant of the future.